Wow, after almost 5 years I am leaving DPE. This was so far the best job I ever had! I am looking forward to get started with my new job in the Windows Phone team being a Product Marketeer around Enterprise and Line of Business apps. But I know I am going to miss being part of DPE as well. Being a part of an organization which is paving the path for the rest of Microsoft. Working with the most enthusiastic colleagues in the organization who have to deal with the good, the bad and the ugly part of our products and make sure the developers and IT-Pros are ready to start using our products.
I know I am still going to be working with DPE (and Services and EPG) so we're not going to be completely out of touch, I still need DPE

I've been doing so much great stuff the last couple of years, it's hard to remember but almost 5 years ago Ruud de Jonge hired me into DPE from services. Look at this picture which answers your question. Is Ruud crazy?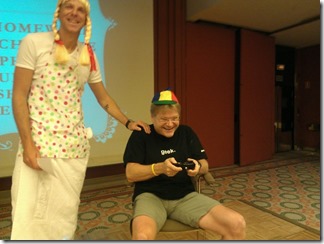 I started doing developer evangelism for Office, Exchange, SharePoint and UC development. I was lucky I could work with a very enthusiastic SharePoint community ran by Marianne van Wanrooij and Mirjam van Olst through Diwug.
Every year DPE organized the DevDays (now TechDays) working for DPE I could play as a rockstar in the geekband with Freena, Tony and Daniel

We're bringing the band back together
I still remember being on stage playing Guitar Hero in front of an audience of over 1000 (!!) people and thinking, hey, MS is paying me to do this

I loved organizing the 1st (and 2nd) SharePoint Connections in The Netherlands with keynote speaker Mike Fitzmaurice (in his kilt

).
And of course the last years being part of the Windows Phone champ group. 21st of October 2010 the first Windows Phone was sold in The Netherlands (the announcement was 11st of October) at 12 o'clock. I was there together with colleague Maarten Sonneveld.
I didn't know who the girl in the picture above was, but she is some famous sitcom acctress in The Netherlands

I still remember I was attending a session in Bellevue a month before with armed guards in front of the door where we (as MS field) were introduced to Windows Phone by Joe Belfiore and Charlie Kindel,
As a joke (and exercise) I published my first Windows Phone app which became famous with all my colleagues. It was mentioned a few times in internal and external sessions as an example how not to design your windows phone app

(Hey, 12000 downloads and a 4.3 star average rating.. my customers are happy)
And it was featured as great app for Toddlers and baby's at Windows Phone Parent

I was lucky to work with a bunch of great colleagues. Visit nice places and doing cool stuff. I still remember the presentation with Amina Waters (WPD) with her epic PowerPoint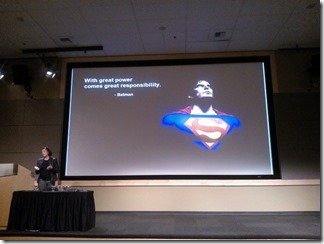 Shaving Brandon Watson's head together with Wilfried because the champs won a bet.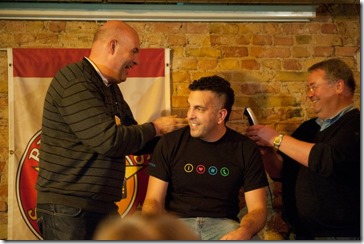 Visiting Nokia World in London.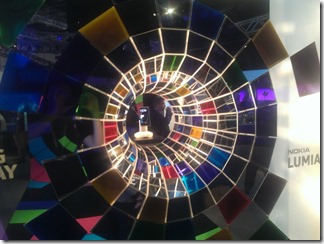 Meeting famous journalists (Mary Jo Foley)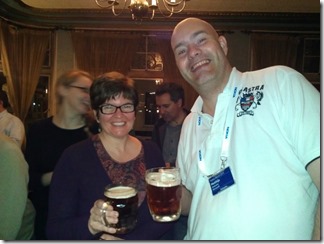 (oops, I tweeted that Mark Russinovich joined the Windows Azure team and this was the result)
Getting recorded by a professional crew for an interview
Or getting interviewed by really short people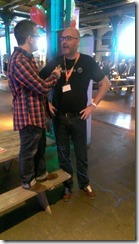 Collecting a lot of phones.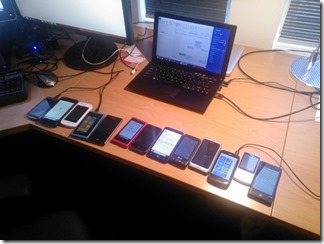 Organising hackaton at my kitchen table at home.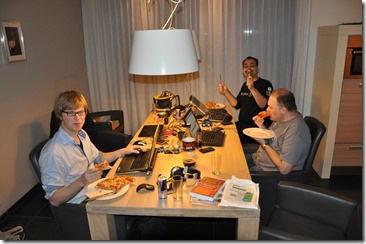 During my time at DPE I was also working in the Workers Council. This meant monthly meetings with Theo our GM, our HR Director Ineke, Monique and Beorn from HR.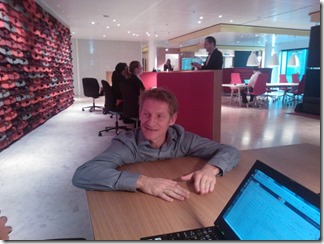 I am really going to miss our discussions and little chats

.
The last year and a half we were also busy working with developers to get Windows 8 apps. That trip started with our trip to Los Angeles with a group of press people. We didn't know anything about Windows 8, the press was briefed one day before the event and we had dinner the evening before the event. They knew more than we did and they didn't believe us and we were all under NDA so couldn't talk.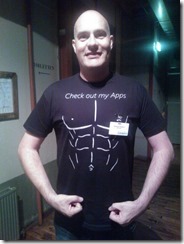 During the flight we found out the KLM purser was the sister of one of our colleagues: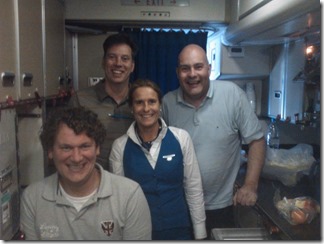 During game in the city we could play on a really large screen (yes rubber duck is available for Windows 8)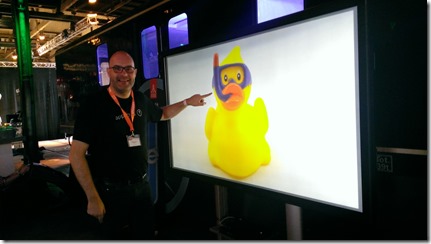 We organized a Windows 8 camp which I was allowed to open.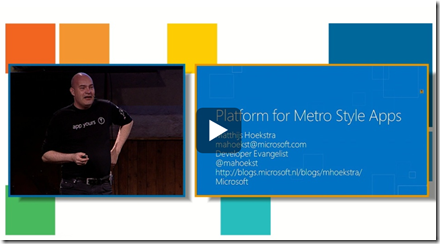 We organizing workshops for iOS developers with their MacBook's running Windows 8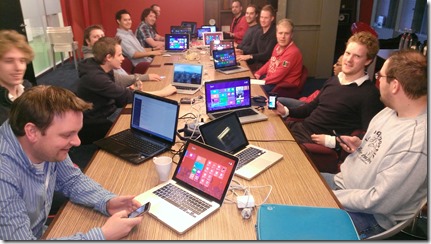 (workshop with Peperzaken in Groningen)
One the highlights was of course being part of the game Rocket Riot. I was in the Phone version (with my WP shirt)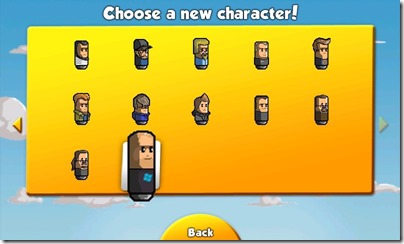 And I was in the Windows 8 version (yes I did the in app purchase to unlock my character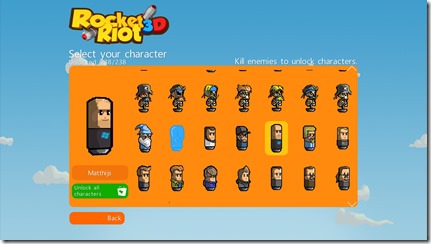 I want to thank Marcel Timmer our DPE lead for being supportive in my search for the next step which I found with the Windows Phone team.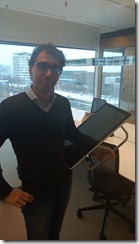 I want to thank the great folks at DPE NL and the Dutch OC team for their support and lots of fun we had together.
And I want to thank the folks online and the community which made my work so much fun and so much easier. You know who you are!
I hope we stay in touch and see each other again.