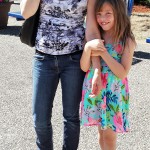 Gisteren zijn we met Lisa naar haar nieuwe school in Sammamish geweest. Margaret Mead Elementary. Haar nieuwe juf wordt Stacy Jeremiah. Super spannend natuurlijk. Vanaf 1 uur smiddags waren we welkom. We konden eindelijk binnen kijken. Klas opgezocht en de tas met spullen meegenomen. 1 jaar schoolsupplies is toch zo'n $100 aan spullen. Stiften, potloden, gluesticks, rugtas, mappen, printpapier, etc. Sommige dingen gaan in de voorraad van de klas en een aantal dingen zijn voor jezelf (en daar moet je naam op uiteraard).
COMMUNITY SUPPLIES – Please do not put names on Community Supplies
Pencils 4 dozen #2 Ticonderoga/Dixon (SHARPENED, please)
Glue 2 jumbo glue sticks, No Rose Art or purple glue. Please take out of packaging.
Baby wipes 3 containers (no refill containers please)
1 bottle of hand sanitizer
1 package Expo dry erase markers chisel tip, low odor – 4 count
Erasers 2 Pink Pearl-Please take out of packaging
INDIVIDUAL SUPPLIES- Please write first and last name on each item with a black sharpie in the upper right corner
Backpack- Full size with no wheels
Pencil Box 6″ x 9″ plastic box
Crayons 2 boxes Crayola, no more than 24 colors
Colored pencils 1 box Crayola (No more than 16 colors)
Markers Crayola No more than 16 colors, washable (1 Wide Set, 1 Thin Set)
Scissors 1 pair Fiskars medium size
1 Dry erase eraser
1 highlighter (color of choice)
1 box Prang or Crayola water colors, 8 colors
2 Wide Ruled Spiral Notebooks
1 BLUE pocket folder (pockets on the bottom)
1 RED pocket folder (pockets on the bottom)
1 YELLOW pocket folder (pockets on the bottom)
2 folders of your child's CHOICE (pockets on the bottom)
Ruler 12 inch standard and metric wooden ruler
1 inch white binder (Avery One Touch brand preferred)
1 pair of lightweight headphones for use in the computer lab. Only a single plug-in from headphone to computer needed, no volume control, minimal size for easy storage. Versions available for $5.00 or less. Please remove from packaging and place in a Ziploc bag for storage.
ADDITIONAL ITEMS- Our classrooms could always use these items if you are able to donate.
Colored Printer Paper (Assorted Bright Colors)
We hadden al snel het tafeltje van Lisa gevonden. Uiteraard stond er weer Elisabeth Hoekstra ipv Lisa Hoekstra. Lisa moest op zoek naar allerlei dingen, waar komt je jas te hangen, waar kun je je snacks en lunch neerzetten, waar is smorgens de line up, je even voorstellen bij de juf (spannend!). Gelukkig is ze heel aardig en vindt de juf en haar man duitse herders super leuk 🙂
Dinsdag begint dus de eerste schooldag. Omdat we binnenkort verhuizen en we het koopcontract konden laten zien mag Lisa al bij deze school beginnen (de scholen zijn verbonden aan het adres waar je woont). Dus de 1e week moeten we Lisa nog even heen en weer kachelen. Zal wel even wennen worden voor haar. Om 7 uur in de auto zitten om op tijd op school te zijn (8:25 – 15:00). Als we in het nieuwe huis wonen is het gelukkig dichtbij, wellicht dat Lisa zelfs weer met de schoolbus durft (die vertrekt om 8:05 bij de grote weg Inglewood Hill Rd).