Zoals ik al eerder schreef hebben we voor de hele relocation een aparte 'pet relocation counselor' genaamd Paula. Paula werkt bij het bedrijf worldcarepet en zij zijn blijkbaar de 'rolls royce' onder de dieren verhuizers. We hebben inderdaad een hele berg email en telefonisch contact met haar gehad. Normaal is een verhuizing van je huisdier naar de US best eenvoudig. Je koopt een grote vari kennel bench waar de hond in past. Je zorgt voor de inentingen tegen hondsdolheid etc. en je brengt de hond naar Schiphol. Inchecken, 200 euro betalen en op plaats van bestemming bij de bagage ophalen.
Aangezien we met zijn 3-en reizen, inclusief 6 koffer en 3 stuks handbagage. De laatste week niet meer in ons eigen huis wonen en een hotel zoeken waar de hond in mag en ook nog met al het heen en weer gevlieg naar ons huis en familie was het toch wel erg prettig dat ze Dizzy eerder kwam halen. Het enige wat wij van te voren moesten doen was een kennel voor Dizzy kopen (juiste maat).
Maandag hebben we de medische keuring van Dizzy laten doen (dat mag maximaal 7 dagen voor de vlucht) en toen hebben we haar naar het hondenhotel gebracht (Hondenhotel Marijke in Kanis waar we haar vaker hebben gebracht)
Donderdag heb ik daar Dizzy weer opgepikt en thuis hebben we gewacht op haar transport. Die kwam om 14:30 voorrijden.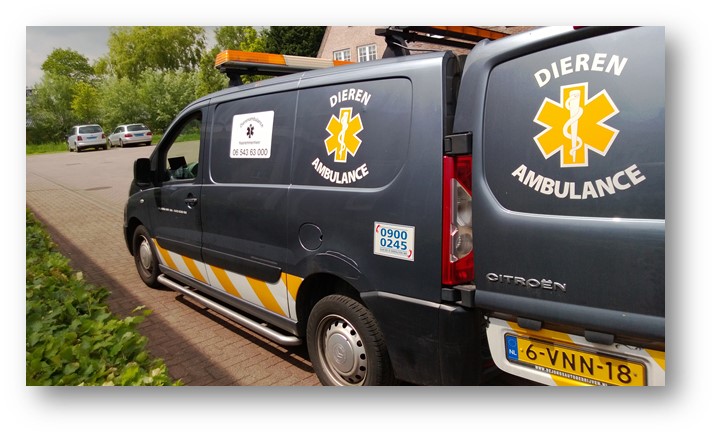 Beetje verwarrend dat ze zelf een vari kennel bij zich hadden. Die moesten we zelf kopen (240 euro!) en dat bleek ineens niet nodig, maar goed, ding moest toch mee, ik had een leeg huis en geen mogelijkheid om nog van dat ding af te komen, dus met wat passen en meten kon ie uit elkaar gehaald toch mee. Dizzy nog een knuffel gegeven en achterin de auto gezet.
Wel heel leuk hoe we vanaf dat moment op de hoogte gehouden werden. De dierenambulance is door een Nederlandse organisatie ingehuurd die weer door worldcarepet zijn ingehuurd. Dus toen Dizzy daar aankwam kregen we een berichtje:
My name is Michael, and I am happy help keep you updated on Dizzy's important trip! Our partners let us know that Dizzy has just arrived at their offices, and is doing very well. Soon they will be on their way to the airport in Amsterdam, where she will be checked into their on-site pet hotel.
I will be updating you a little later once Dizzy is all settled in for the night. If you have any questions or concerns please feel free to contact either myself or Laura.
Talk to you soon!
Dizzy is toen naar het pethotel van KLM gebracht en heeft daar een nachtje geslapen (van donderdag op vrijdag). Op vrijdag vloog ze rechtstreeks met Delta (de vlucht die ik al zo vaak zelf heb gemaakt) naar Seattle. We kregen ook weer een update van Dizzy:
Hello Mathijis,
I spoke with our WorldCare partner Marleen, and she let us know Dizzy is doing great! She dropped off Dizzy at the Pet Hotel , and even said she gave her a huge hug before she left. J She said she will walk Dizzy tonight and give her another walk tomorrow, to ensure she is relaxed before her big flight.
I will be updating you tomorrow afternoon once her flight is in the air. If you have any questions or concerns please feel free to contact either myself or Laura. Take care, and I will talk with you soon.
Vanuit het Pethotel kregen we ook nog een kaartje van Dizzy J
Hello Matthijis,
Thank you for providing you US based phone numbers. Can you please let us know our final delivery address for Dizzy on Saturday, June 1st? We would like to update our WorldCare Partner in Washington. Thanks!
I will be touching base with you once Dizzy is in the air tomorrow. In the meantime, please see the following postcard Dizzy wanted to send along!

Toen Dizzy eenmaal in de lucht was kregen we wederom een berichtje:
Thank you so much for giving me your U.S. address. I have relayed it to our WorldCare partner, and we are all set for her delivery on Saturday.
I just wanted to let you know that Dizzy is in the air!  Her flight took off with a slight delay this morning, but she is en route to her new home. 
I will be contacting you once her flight lands in Seattle. Please don't hesitate to contact us if you have any questions or concerns.
En een berichtje toen ze geland was in Seattle:
Hello Matthijs,
Dizzy has landed in Seattle! Her flight got in on time, and she will now be boarded off of her flight to meet our WorldCare Partner Rebeca. It may take them up to three hours to clear customs, and then Dizzy will be on her way to Cascade Kennels.
I will be updating you once Rebeca has made sure Dizzy is checked in at Cascade. Rebeca is a great partner, and will take great care of Dizzy for you. 
If you have any questions or concerns in the meantime, please let Laura or I know.
Thank you, and I will talk to you soon!
Dus Dizzy is al in Seattle en wij moeten nog vertrekken. Gek idee.
In Seattle is Dizzy naar een Kennel gebracht tot zaterdag, dan wordt ze bij ons afgezet rond een uur of 14:00.
Hello Mathijs,
Dizzy is all checked in to Cascade Kennels for the night! 
My partner Jennifer let me know she is doing very well, and seems excited. I am sure she will enjoy the chance to rest up after her exciting day.
Our partners estimate to deliver Dizzy to you around 2pm tomorrow. They will call you when they are on their way. If you have any questions, please let us know. Talk to you soon!
De dat we in Seattle landde, kregen we ook nog een kaartje van Dizzy vanaf de kennel in Seattle: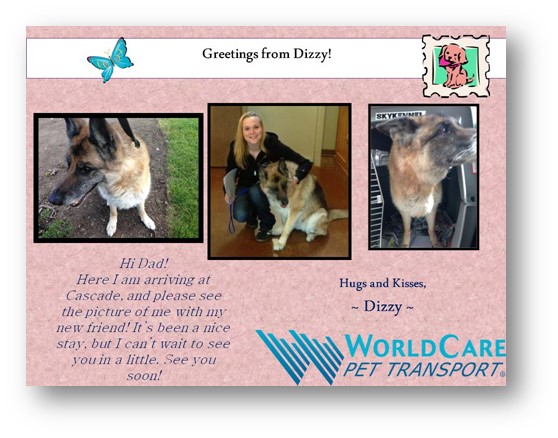 Het lijkt allemaal wel erg overdreven, helemaal voor ons, ik heb mij geen moment druk gemaakt om Dizzy. Die vermaakt zich wel als ze maar wat aandacht en eten krijgt. Aan de andere kant zijn er genoeg mensen waar de hond/kat als een kind is. Dan snap ik best dat je je heel druk kunt maken om de reis van je huisdier en is deze manier van contact en informatie wel heel prettig. Zou ik ook prettig gevonden hebben als we Lisa in een bench hadden gestopt en hadden opgestuurd naar de US J